June 1, 2015 – A new online tool is helping voters quickly find information about their provincial constituency, and closer to election day, where to vote as well.
The Find My Constituency tool is on the Elections Saskatchewan website. Voters can enter their residential address to find their new constituency and see its boundaries. During an election period, voters will be able to find their voting location and contact information for their local returning office.
"Educating voters on what constituency they live in and where they will cast their ballot is a priority for us," says Dr. Michael Boda, Chief Electoral Officer of Saskatchewan. "Without this knowledge voters will be unable to fully participate in the electoral process. We are working to remove any potential barriers that could prevent an eligible voter from casting a ballot."
Voters can use the Find My Constituency tool anywhere that they have an internet connection, including on mobile devices. If the device is GPS enabled, the tool can provide constituency information based on your current physical location.
Elections Saskatchewan has also produced a digital image (see below) for our stakeholders to use by adding to their own websites. The image is intended for political parties, constituency associations, municipalities and other stakeholders to add to their own website homepages to increase their own user experience. Clicking the image will take the user directly to the Find My Constituency tool on the Elections Saskatchewan website.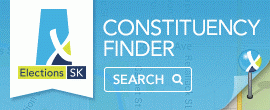 "We want to make it as easy as possible for Saskatchewan voters to find out what constituency they live in and where their voting station is located. We hope this button is added to numerous websites and is of value to both voters and our stakeholders," says Dr. Boda.
"Currently there are 58 constituencies in Saskatchewan, and this is increasing to 61 for our 28th General Election. With some new constituencies, new names, and new boundaries, voters may not be aware of what constituencies they will be in for the upcoming provincial election. We want to educate voters on these changes, and remove any barriers to voting."
It is expected that a record number of voters will make use of the Find My Constituency tool to assist in confirming their new constituency information during the 28th General Election. Elections Saskatchewan is committed to providing easy ways for voters to learn about the election from home.
The 28th General Election is set, by law, for November 2, 2015. If there is a conflict with a federal election at that time, the alternative date for Saskatchewan's election is April 4, 2016.
Elections Saskatchewan is the province's independent, impartial, professional election management body. Given a mandate from the Saskatchewan Legislative Assembly, it organizes, manages and oversees provincial electoral events.
[30]
For more information contact:
Tim Kydd
Senior Director
Communications & Outreach
Elections Saskatchewan
[email protected]
(306) 787-7355