Browser Requirements
In order to provide a quality experience for the more than 50% of visitors that access our site from mobile devices and to enable a tailored view of the real-time information available, the Preliminary Voting Results site is designed and optimized for modern web browsers.
Desktop and Laptop Browsers
Microsoft Windows
Google Chrome
Mozilla Firefox
Microsoft Edge or Internet Explorer 9 or higher (note that Internet Explorer 8 and lower are not supported)
Opera
Apple OS X
Google Chrome
Mozilla Firefox
Apple Safari
Opera
Linux
Google Chrome
Mozilla Firefox
Opera
Smartphone and Tablet Browsers
Apple iOS
Mobile Safari
Google Chrome
Android
Windows Phone 8.1
Other modern web browsers or more recent version of those listed may function correctly but have not been confirmed in testing.
Page Features
Auto-Refresh
The results page will automatically reload every sixty seconds, so there is no need to continuously update the page to see the latest results.

Constituency Locking
You can select any constituency and lock it to the top of the table view for access without scrolling.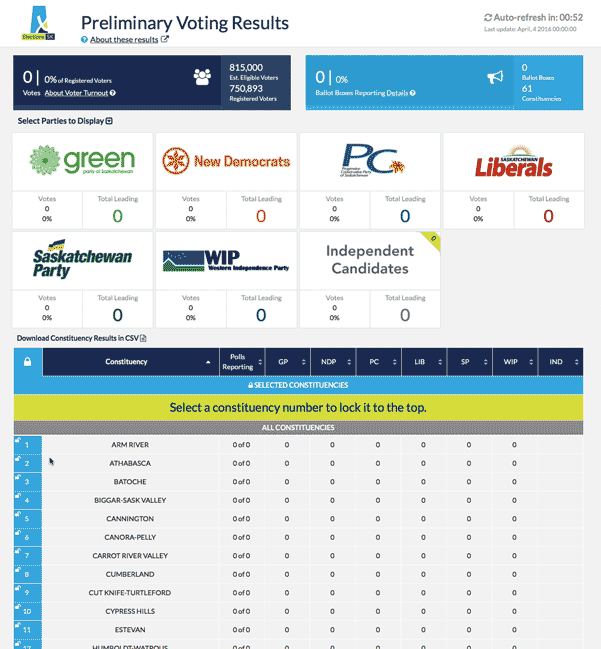 Party Summary Display
Select from the list of parties in the menu to show summarized results for that party at the top of the page.
Results for all parties are shown in the results table view on desktop. Results for selected parties are shown in the results table for small-screen devices.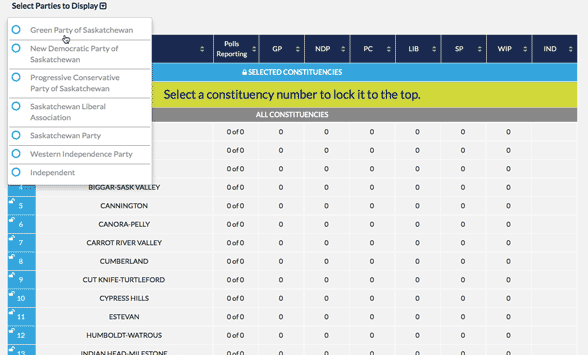 Sorting
Sort the results of any column by selecting the column header. Select the header again will reverse the order of the results.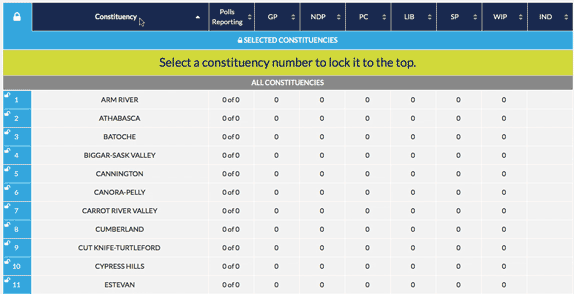 Independent Candidates Indicator
The total number of independent candidates is shown in the summary display. A similar indicator will appear on applicable rows in the results table when an independent candidate is running.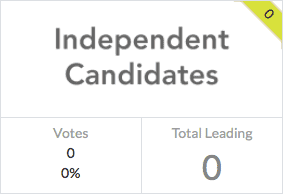 CSV Download
You can download a snapshot of the current results at any time in CSV format.

Mobile Functionality
All major functionality and display features are available on mobile devices. When viewing results information for several parties at once, some horizontal scrolling may required in the results table view. Rotating the phone to landscape mode will allow for more information to be viewable in the results table.