September 17, 2014 – "Democracy: Own It?" was the theme of a public discussion at the Diefenbaker Canada Centre as part of Canada's Democracy Week, September 15 to 21.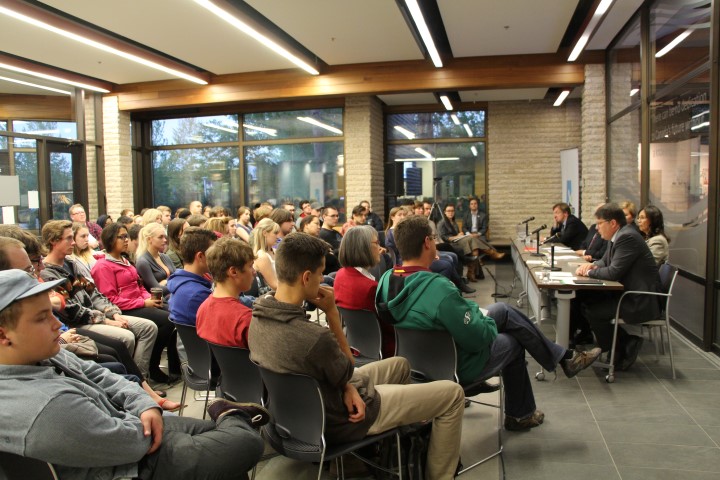 The active discussion included a range of topics in answering the night's question, "How can Canadians claim ownership of our democratic process?". The panelists and audience covered issues such as encouraging young people to get more involved in the democratic process, the role of the media, and changes in Canada's political culture.
The panel of experts was made up of:
"The Diefenbaker Canada Centre prides itself on hosting events that encourage public engagement and participation," says Dr. Atkinson. "In addition to a strong showing from our students we were also pleased to welcome members of our community and elected officials. Their passion, and that of the panelists, helps to reassure us that Canada's democracy is in good hands."
"It was great to see so many young people come out to this event," added Dr. Boda. "Youth are an important part of the democratic process. I was impressed with the thoughtful questions from the audience. It was an engaged group.
"At Elections Saskatchewan, we focus on reaching out to all Saskatchewan citizens. Events like this panel discussion are essential to promoting democracy in our province."
Click here to see more pictures of the event
Since 2007, the United Nations has observed Democracy Day. For the past four years, Canada's Democracy Week has strived to "connect Canadians with activities in communities across the country that celebrate our democratic values and traditions". More information about Canada's Democracy Week can be found at http://www.democracy-democratie.ca/.
Elections Saskatchewan is the province's nonpartisan, independent election management body. Given a mandate from the Saskatchewan Legislative Assembly, it organizes, manages and oversees provincial electoral events.
[30]
For more information contact:
Tim Kydd
Senior Director, Outreach & Policy
Elections Saskatchewan
(306) 787-7355