September 16, 2014 – Elections Saskatchewan and the Diefenbaker Canada Centre (DCC) are partnering to deliver democracy-themed programming to Saskatchewan students.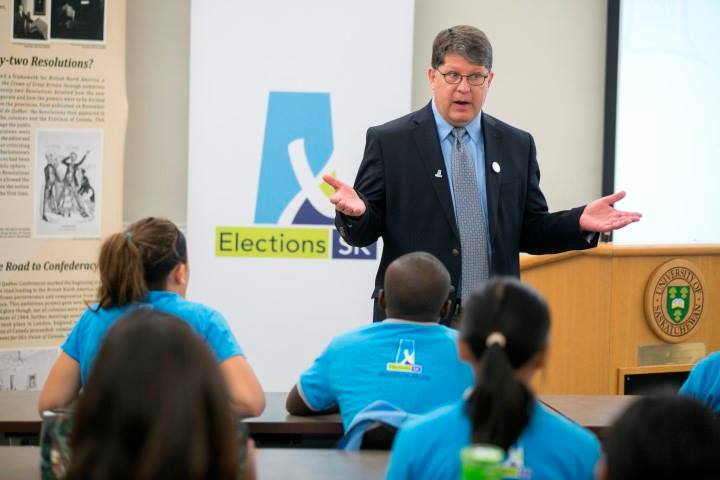 The program, called Your Voice Matters, is comprised of four distinct learning modules for Grade 4 to 8 students across Saskatchewan. The modules focus on Canada and Saskatchewan's political history. Students will also have an opportunity to run a mock election that includes everything from organizing to campaigning to voting.
"Partnerships between Elections Saskatchewan and organizations like the DCC help us connect with people of all ages, in all Saskatchewan communities, to promote democracy and democratic participation," says Dr. Michael Boda, Saskatchewan's Chief Electoral Officer and head of Elections Saskatchewan, the provincial election management body.
"This partnership supports our institution's overall direction and priorities regarding elections management. Working with organizations such as the DCC increases the knowledge that students have about democracy and citizenship. Students are the next generation of voters and increasing their understanding and interest in democracy is important to us."
"I am thrilled to see the youth of Canada, Saskatchewan, and indeed our city of Saskatoon, becoming engaged with politics," said Interim President and Vice-Chancellor Gordon Barnhart. "Becoming involved in civil society and politics is critical to a strong and healthy democratic society. Programs like Your Voice Matters, play a crucial role in underlining the importance of democratic institutions and policies to young Canadians—the voters of tomorrow."
The four modules of Your Voice Matters are:
• Your Province, Your Power. In this module students will learn how a bill becomes law, the structure of Saskatchewan's government, and the role of the courts. They will learn about the distinctive role of the Crown and the Lieutenant Governor;
• Get Involved. This module focuses on why informed citizenship is critical, and how individuals can influence policy changes that affect their everyday life. The students will discuss the types of organizations they can get involved with including political parties, service clubs, non-governmental organizations (NGOs), non-profits, etc.;
• Reasoning out Responsibility. Students in this module will learn about federalism and will discuss the historical reasons behind the delegation of powers between the federal and provincial governments, as well as their contemporary implications; and
• Raise your Voices. In the final module students will go through the process of creating a political party and will study key events in Saskatchewan's political history. They will explore the principles and terminologies associated with elections; examine the electoral process, and review the history of the vote in Saskatchewan. Students will then form groups to create their own parties and platforms, concluding with a lively election simulation.
"The Diefenbaker Canada Centre is delighted to partner with Elections Saskatchewan in promoting democratic and civic engagement to the province's youth," said Terresa Ann DeMong, Manager, Diefenbaker Canada Centre. "The DCC is uniquely equipped to develop and deliver Your Voice Matters, taking knowledge and passion out to classrooms across the province. An integral part of the DCC's mandate is to celebrate citizenship and leadership; this program will work to ensure the next generation of leaders has the skills and confidence to change their world."
See more photos of event on our Facebook page here
Watch the classroom introduction video message with Dr. Boda below:
About Diefenbaker Canada Centre
Proudly building on the legacy left by the Right Honourable John George Diefenbaker, the DCC hosts prestigious, engaging exhibits and provides valuable youth educational programming. These exhibits bring the university community and wider public together to critically interpret the Canadian experience. Our educational programs encourage youth to explore the significance of rights, freedoms and Canadian governance, while instilling in them the importance of being engaged and active citizens.
About Elections Saskatchewan
Elections Saskatchewan is the province's independent, impartial, professional election management body. Given a mandate from the Saskatchewan Legislative Assembly, it organizes, manages and oversees provincial electoral events.
[30]
For more information contact:
Tim Kydd
Senior Director, Outreach & Policy
Elections Saskatchewan
(306) 787-7355
[email protected]
Terresa Ann DeMong
Manager, Diefenbaker Canada Centre
University of Saskatchewan
(306) 966-8384
[email protected]