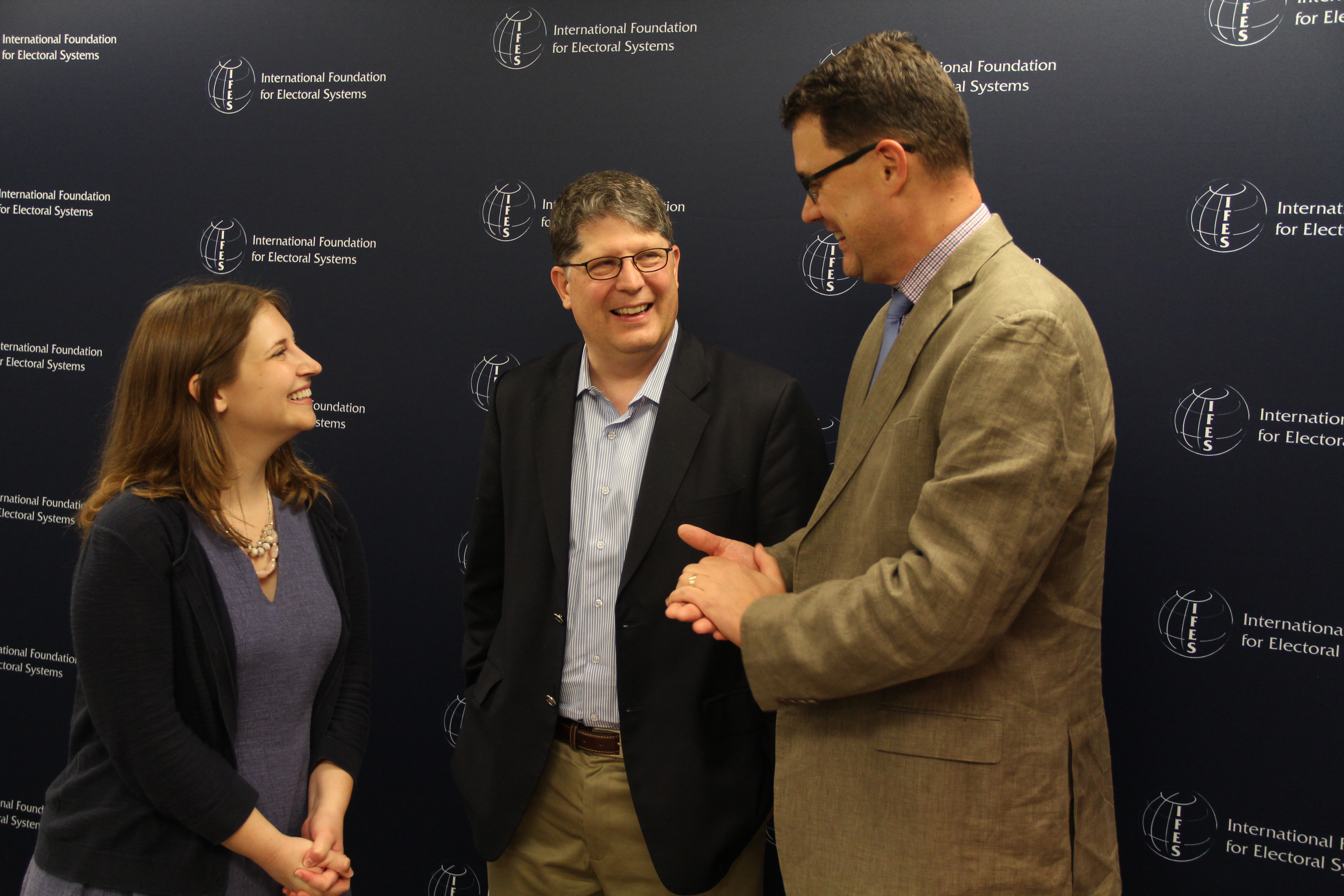 Dr. Michael Boda, Chief Electoral Officer of Elections Saskatchewan, assisted The International Foundation for Electoral Systems (IFES) in launching their new website, ElectionAccess.org, a site advocating for the rights of voters with disabilities. This news release was issued by IFES.
Photo: Dr. Michael Boda (centre) with Virginia Atkinson, IFES' Manager for Global Access and Inclusion Programs, and Michael Svetlik, Vice-President for Programs at IFES
IFES Launches Revamped ElectionAccess.org
May 13, 2015 – The International Foundation for Electoral Systems (IFES) is proud to announce that the newly renovated ElectionAccess.org website is now live.
ElectionAccess.org is the world's first and only free resource solely dedicated to the global political rights of persons with disabilities. As the below infographic illustrates, it is a one-stop-shop for disability rights advocates and government officials to learn about election laws, best practices in inclusive political participation, and assistive devices.
First launched in 1998 with support from the Ministry for Foreign Affairs of Finland and the Swedish International Development Cooperation Agency, ElectionAccess.org serves as an online clearinghouse dedicated to showcasing laws and tools associated with political participation by persons with disabilities. IFES' Innovation Fund – an endowment that supports original projects that address pressing issues in democratic development – supported the revamp of the website, which features a complete redesign and new and updated resources, including:
Legal excerpts from relevant international and national laws;
A library of publications related to disability rights and political participation; and
Examples of inclusive voter education from around the world.
From the beginning, the website was designed with accessibility in mind. Besides fulfilling the standards established by the World Wide Web Consortium (W3C), it is also in compliance with Section 508 of the U.S. Rehabilitation Act. Key accessibility features include compatibility with screen readers, transcripts for all videos, and greater user control over the website, such as changing background color and adjusting font size.
ElectionAccess.org fulfills a central need for greater information and resources on the political rights of more than one billion persons with disabilities in the world. IFES welcomes all ideas for additional publications, best practice examples, and other suggested content for the website. Please feel free to reach us at [email protected].
Learn more about IFES' work on disability rights.