June 9, 2015 – Enumeration, election dates and privacy were just some of the topics at the third annual Registered Political Parties Advisory Committee Meeting in Saskatoon.
Since 2013, Elections SK hosts party representatives in June for a one-day meeting to discuss timely election-related matters. This year's meeting, held June 9 at the Diefenbaker Canada Centre, involved representatives from all but one of Saskatchewan's registered political parties.
These representatives participated in presentations and discussions on:
Enumeration, voters lists and the voter lists revision process;
Two election date scenarios (Nov. 2, 2015 or April 4, 2016);
Ethics and a Code of Conduct for participants in the electoral process, and
Privacy and data provision agreements for political parties and candidates.
"Saskatchewan's registered political parties are key stakeholders for us, and we connect with them often on a variety of electoral topics," says Dr. Michael Boda, Saskatchewan's Chief Electoral Officer and head of Elections Saskatchewan. "Over the past few years we've learned from these meetings what's important to them, how we can better serve them, and where we can work together.
"This year's annual meeting will be the final one before a provincial general election, so it had a clear focus on the priorities that come in the final year of an election cycle, such as voter registration and how voter information is shared between us."
The 28th General Election is set, by law, for November 2, 2015. If there is a conflict with a federal election at that time, the alternative date for Saskatchewan's election is April 4, 2016.
The day concluded with a dinner and keynote speech from Marc Mayrand, Chief Electoral Officer of Canada. Mr. Mayrand spoke on Canada's legal and institutional framework for administering elections and the necessary balance between electoral integrity and affording accessibility of the franchise.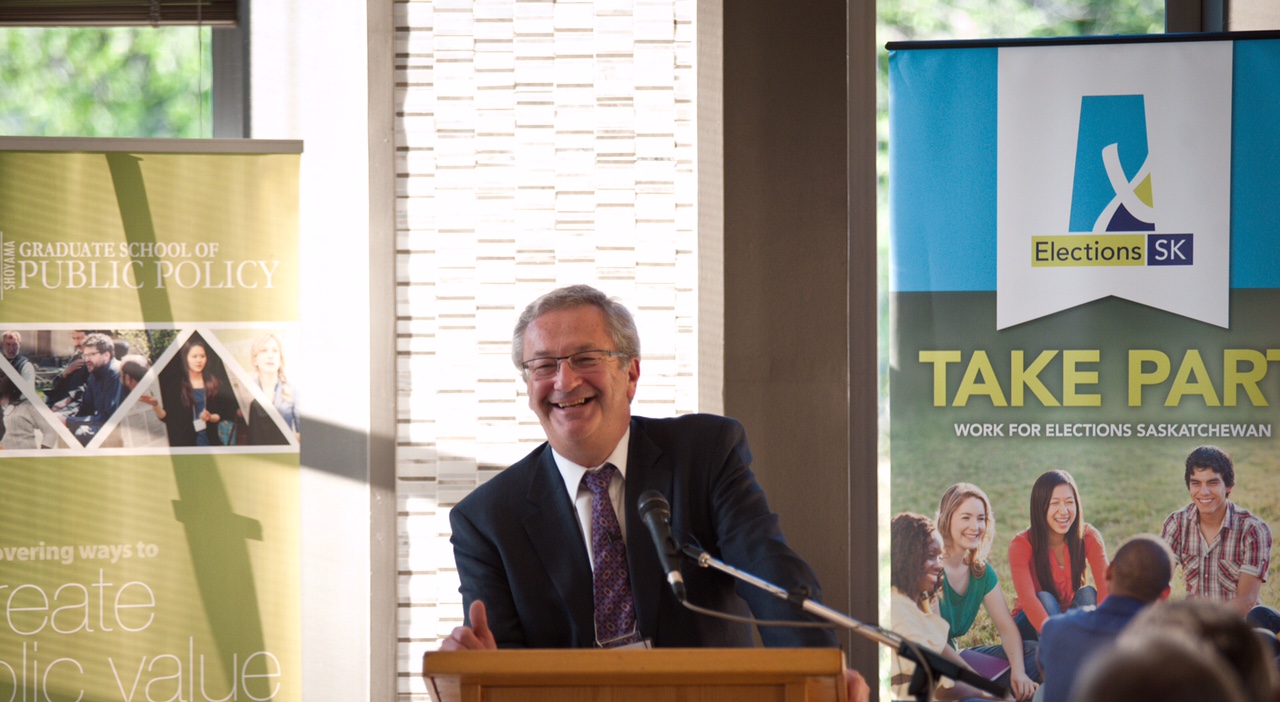 Elections Canada CEO Marc Mayrand (left) and Elections Saskatchewan CEO Dr. Michael Boda speaking in Saskatoon on June 9, 2015.
Elections Saskatchewan is the province's independent, impartial, professional election management body. Given a mandate from the Saskatchewan Legislative Assembly, it organizes, manages and oversees provincial electoral events.
For more information contact:
Tim Kydd
Senior Director
Communications & Outreach
Elections Saskatchewan
[email protected]
(306) 787-7355